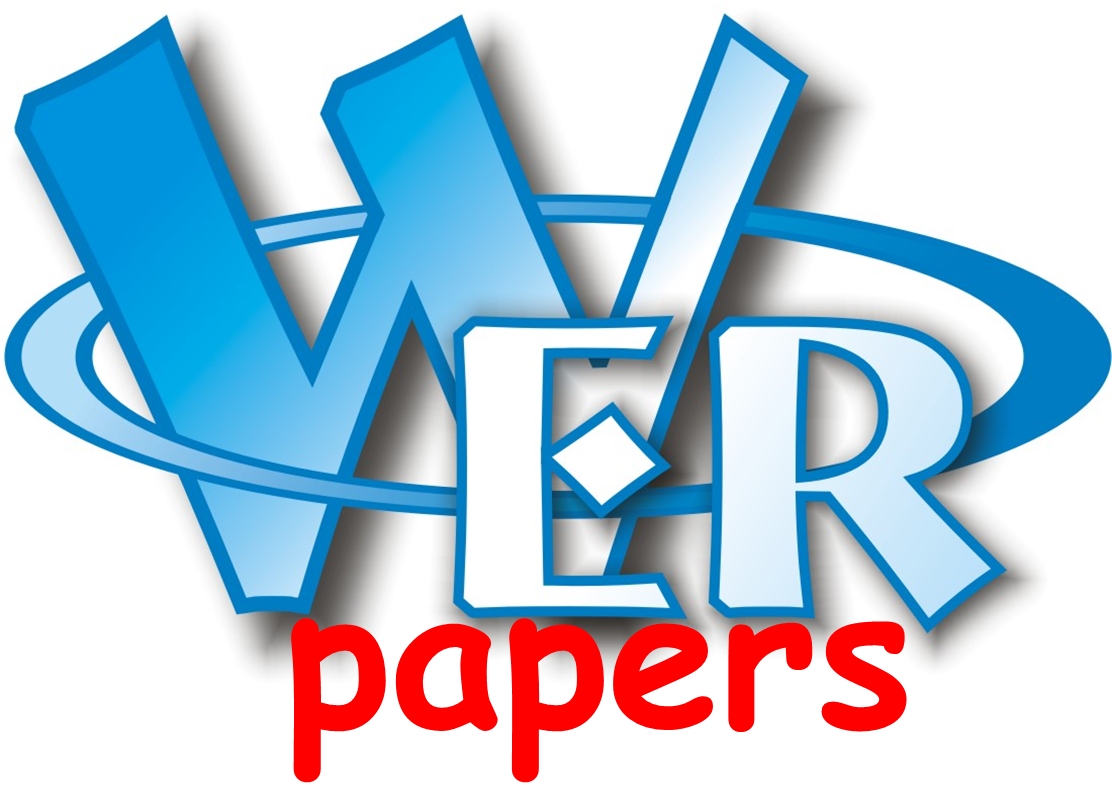 Workshop em Engenharia de RequisitosWorkshop en Ingeniería de RequerimientosWorkshop on Requirements Engineering
Anais do WER V. 14, 2011. Rio de Janeiro - Brasil
---
@proceedings{WERpapers: WER11,
  editores = {Maria Lencastre, Hugo Estrada Esquivel, Eduardo Figueiredo},
  title = {Anais do WER11 - Workshop em Engenharia de Requisitos, Rio de Janeiro, Brasil, Abril 28-29, 2011},
  publisher = {},
  ISBN = {978-85-8006-032-4},
  ISSN = {2675-0066},
  year = {2011}
}

1 - Preface
1 - Preface. Maria Lencastre, Hugo Estrada Esquivel, Eduardo Figueiredo. pp. x-xii, DOI . [pdf] [scholar]
Abstract: Welcome to XIV Edition of the Requirements Engineering Workshop (WER'11) held at Rio de Janeiro, Brazil; organized by the Pontifícia Universidade Católica do Rio de Janeiro (PUC-Rio), from the 28th to the 29th of April 2011. This year, WER'11 received 48 papers from 13 countries, written in the 3 official idioms: Portuguese, Spanish or English. All the submitted papers were revised by at least 3 reviewers from the WER'11 Program Committee. At the end of the process 15 papers where accepted to be published and presented at the Workshop. It's important to recognize and thank the hard work made by the reviewers and also its quality.
2 - Keynote Talk
2 - To be, or not to be (socially oriented ): that's the question. Jaelson Castro, . pp. 2, DOI . [pdf] [scholar]
Abstract: New technologies and systems are greatly impacting people's lives. However, innovation has the potential to bring benefits as well as threats. In this world of technical revolution we argue that in order to arrive at proper systems requirements, one should examine and understand the relationships among social actors. In this talk we review research that applies, adapts, extends, or evaluate the social modeling concepts and approaches. We also raise research challenges for our community.
3 - Requirements Reuse
3 - Padrões de Escrita de Requisitos: um mapeamento sistemático da literatura. Rodrigo Cezario da Silva, Fabiane Barreto Vavassori Benitti. pp. 259-272, DOI . [pdf] [scholar]
Abstract: The requirements elicitation is reported in the literature as essential to the success of software development projects. The existence of requirements patterns aimed at not only improving the quality of requirements specifications, but also the reuse of successful solutions of previous experience in new projects. In this paper, we present the results of a systematic literature mapping on requirements patterns. The results show that there is a diverse range of patterns for the process of requirements engineering, but there are still few studies addressing the requirements patterns that deal specifically with the documentation of software requirements.
4 - Using Systematic Review to Elicit Requirements of Reference Architectures. Elisa Yumi Nakagawa, Lucas Bueno Ruas Oliveira. pp. 273-284, DOI . [pdf] [scholar]
Abstract: Software architectures have played a signi?cant role in determining the success of software systems. In this context, reference architectures have emerged as a special type of architecture that contains knowledge of a speci?c domain, aiming at improving reuse and productivity, facilitating the development of systems of that domain. Considering their relevance, the establishment of reference architectures is very interesting; however, it is not a trivial task, mainly due to the di?culty to identify their requirements, since a range of knowledge is required. Thus, the main objetive of this paper is to propose the use of Systematic Review as a technique to elicit requirements of reference architectures. In order to show the viability of our idea, we present a case study on the software testing domain. Results have pointed that Systematic Review could be considered an e?cient and additional technique to gather spread domain knowledge, essential task to the establishment of a more complete reference architecture.
4 - Aligning Requirements to Business Goals and Process
5 - Uma Proposta de Elicitação e Análise de Requisitos no Contexto de Médias e Pequenas Empresas de Desenvolvimento de Software. Cristiano Ferreira de Souza, Victor F. A. Santander. pp. 285-296, DOI . [pdf] [scholar]
Abstract: Na literatura da área de Engenharia de Requisitos apresentam-se diversas métricas de elicitação, análise, documentação e gerência de requisitos, sempre tendo como condutor o engenheiro de requisitos. Acredita-se que outra abordagem efetiva consiste em tornar o usuário/cliente como protagonista do processo de engenharia de requisitos. Mais especificamente, neste trabalho propõe-se uma abordagem alternativa a qual permite já nas primeiras fases do processo de engenharia de requisitos elicitar o maior número de requisitos sob a perspectiva e direta condução do usuário e/ou cliente. A proposta é apoiada por uma ferramenta computacional a qual é também brevemente apresentada e utilizada em um estudo de caso.
6 - Estudio experimental de la efectividad de la entrevista abierta frente a la entrevista independiente de contexto. Dante Carrizo, Oscar Dieste, Natalia Juristo, Marta López. pp. 297-308, DOI . [pdf] [scholar]
Abstract: OBJETIVO: Estudiar la efectividad relativa de las técnicas de entrevista abierta y entrevista independiente de contexto en la identificación de requisitos para sistemas software. MÉTODO: Experimento controlado ensayando dos factores: "tipo de entrevista" (abierta e independiente de contexto) y "tipo de problema" (identificación de requisitos para dos sistemas software distintos). Debido al reducido número de sujetos experimentales, se ha utilizado un diseño de medidas repetidas dentro de los sujetos. RESULTADOS: El poder estadístico del estudio es en general insuficiente, pero hemos podido constatar que el tipo de problema posee efectos significativos en la efectividad del proceso de relevamiento de requisitos. La experiencia del analista juega también un papel importante. El tipo de entrevista utilizada afecta en mucha menor medida. CONCLUSIONES: Es necesario comprender mejor qué es un problema de relevamiento de requisitos. Esto nos permitirá diseñar estrategias más eficaces para una identificación certera de los requisitos del software.
7 - Modelagem da atividade de elicitação de requisitos utilizando a técnica de entrevista: uma abordagem utilizando dinâmica de sistemas. Victor O. Hermsdorf, José Luis Braga, Leonardo Carvalho, Liziane S. Soares, Bernardo G. Ambrósio. pp. 309-320, DOI . [pdf] [scholar]
Abstract: O desenvolvimento de software é uma atividade que envolve riscos, parte deles relacionados a problemas de decisão, principalmente no nível gerencial. São muitas variáveis dinâmicas interconectadas a serem gerenciadas, sendo indispensável o uso de ferramentas que auxiliem os gerentes em suas tomadas de decisão, identificando os riscos antes de eles se materializarem. O objetivo deste trabalho é produzir um modelo de dinâmica de sistemas que aborde a atividade de elicitação de requisitos utilizando a técnica de entrevista, permitindo que gerentes possam utilizá-lo como uma ferramenta de apoio para auxiliá-los na análise e tomadas de decisão relativas à adoção desta técnica em projetos.
8 - Transparência Aplicada a Modelos de Negócio. André Luiz de Castro Leal, Henrique Prado Sousa, Julio Cesar Sampaio do Prado Leite, José Luis Braga. pp. 321-332, DOI . [pdf] [scholar]
Abstract: O presente artigo explora o uso do conceito de transparência em processos de negócio (BPM). Demonstra-se, através de um exemplo, como um processo de negócio pode tornar-se mais transparente e como a teoria de aspectos ajuda a modularizar o modelo do processo. Particularmente, ajudamos a comprovar a eficácia de aspectos na operacionalização de requisitos de clareza e simplicidade. O artigo utilza um exemplo baseado em um processo de solicitação de financiamento para aquisições num ambiente universitário.
5 - Non Functional Requirements
9 - O Método de Inspeção Semiótica Aplicado ao Requisito Usabilidade. Elizabeth Suescún Monsalve, Vera Maria B. Werneck, Julio Cesar Sampaio do Prado Leite. pp. 333-344, DOI . [pdf] [scholar]
Abstract: O requisito usabilidade é de suma importância para os artefatos de software principalmente na área de jogos computacionais, pois permite medir a capacidade de uso de um artefato de software. Classifica-se esse requisito como um requisito de qualidade ou Requisito Não-Funcional (RNFF). Nosso trabalho centra-se na operacionalização do requisito usabilidade no contexto de um jogo educacional usando o Método de Inspeção Semiótica (MIS), oriundo da área de Interação Humano--Computador (IHC). O SimulES-W é a primeira versão digital do jogo SimulES usado para o ensino da engenharia de software de forma lúdica e colaborativa entre os jogadores. Abstract. The usability requirement is extremely important to software artifacts especially in the area of computer games. This requirement can be classified as a quality or a nonfunctional requirement. Our work focuses on the operationalization of usability in the context of an educational game using the Semiotics Inspection method from the area of Human-Computer Interaction. SimulES-W is the first digital version of the game SimulES aiming at teaching software engineering in a fun and collaborative way.
10 - Specification of Failure-Handling Requirements as Policy Rules on Self-Adaptive Systems. João Pimentel, Jaelson Castro, Xavier Franch. pp. 345-356, DOI . [pdf] [scholar]
Abstract: Most adaptive systems have compensation mechanisms for recovering from or preventing failures. However, sometimes a compensation is not essential. Hence, diagnosing and compensating each and every one of their failures may be ineffective. Rather than polluting a requirements specification with fine grained definition of failure-handling conditions, this work aims to increase the flexibility of failure handling in self-adaptive systems using tolerance policies. We allow the expression of conditions in which certain failures may be ignored – i.e., conditions on which a failure will not be compensated. Such policies may lead to reduced costs and performance improvement. The FAST framework consists of the definition of a tolerance policy, the mechanisms to evaluate this policy and a tool to aid the creation of policies.
6 - Transformation Between Models
11 - De Arquitecturas Organizacionais em i* a Arquitecturas Baseadas em Agentes: Uma abordagem orientada a modelos. Carla Silva, Pedro Dias, João Araújo, Ana Moreira. pp. 357-368, DOI . [pdf] [scholar]
Abstract: O Tropos propõe uma abordagem para o desenvolvimento de sistemas multi-agentes; baseia-se nos conceitos sociais e intencionais oferecidos pelo framework de modelação organizacional i*, adotando-o para suportar as várias fases iniciais do desenvolvimento, em particular o desenho arquitectural. Reconhecendo no UML (Unified Modeling Language) a capacidade de actuar como uma Linguagem de Descrição Arquitectural, este trabalho especifica, através de uma abordagem orientada a modelos, as transformações necessárias para obter modelos arquitecturais, descritos no perfil de Agência UML, a partir de modelos arquitecturais organizacionais descritos em i* no contexto do Tropos.
12 - Model Interchange and Tool Interoperability in the i* Framework: A Proof of Concept. Daniel Colomer, Lidia López, Carlos Cares, Xavier Franch. pp. 369-382, DOI . [pdf] [scholar]
Abstract: Since the i* (i-star) framework was adopted by the requirements engineering community, different groups have formulated variations of the language proposed therein with the purpose of adapting the framework to the specific needs of its users. Whilst this flexibility is helpful from many perspectives, it poses some challenges, remarkably the difficulty of sharing a common model knowledge base, and tool incompatibility. In earlier works, we have formulated the iStarML interchange format as a mediator between these different variations. In this paper, we present a particular experience we have carried out, namely the interconnection of two existing tools, jUCMNav and HiME. We have provided the adequate mappings to transform models that correspond to the two metamodels adopted by these tools, we have identified the conflicting cases in the transformation, and we have implemented the mapping as import/export facilities in the tools. This case has not just an intrinsic value as proof of concept (i.e., the ability of these two tools to interchange models) but also sets the basis for a general solution to the i* tool interoperability problem.
7 - Early Requirements
13 - Design Rationale Representation in Requirements Engineering using the KAOS meta-model. Ernani Gaspar Santos, Adriana Pereira de Medeiros. pp. 383-394, DOI . [pdf] [scholar]
Abstract: Requirements specifications made in a poor or incorrect manner have been recognized as a source of problems in software development. Recording design rationale in this activity may contribute to a better reasoning about requirements and how to model them, since the software engineers need to carefully evaluate the justifications for their decisions. This work investigates the design rationale representation for requirements models using the Kuaba approach and the KAOS meta-model. It shows that representing design rationale taking advantage of the design meta-models' semantics can favor improvements in requirements models quality, working as design feedback. It also contributes to requirement changes management by giving semantics to requirements tracing and supporting impact analysis.
14 - A Goal Oriented Approach to Identify and Configure Feature Models for Software Product Lines. Carla Silva, Clarissa Borba and Jaelson Castro. pp. 395-406, DOI . [pdf] [scholar]
Abstract: A goal oriented approach can be used as a way to discover variable and common requirements of a software product line (SPL), as well as to reduce costs associated with the configuration of a specific product in a product family. A goal oriented requirements engineering approach which has been used to develop complex system is the i* framework. It provides a manner to identify and specify the stakeholders' goals in relation to the intended system, as well as the characteristics of the system itself. This work proposes an extension of the i* modeling language, called i*-c (i* with cardinality), that allows inserting cardinality in some of its modeling elements. The G2SPL (Goals to Software Product Line) approach defines a process to identify and model common and variable features of a SPL using i* models with cardinality, as well as guides the configuration of a specific product in the SPL.
8 - Late Requirements
15 - Message Structures: a modelling technique for information systems analysis and design. Arturo González, Marcela Ruiz, Sergio España, Óscar Pastor. pp. 407-418, DOI . [pdf] [scholar]
Abstract: Despite the increasing maturity of model-driven development (MDD), some research challenges remain open in the field of information systems (IS). For instance, there is a need to improve modelling techniques so that they cover several development stages and they facilitate the transition from analysis to design. This paper presents Message Structures, a technique for the specification of communicative interactions between the IS and its environment. This technique can be used both in analysis and in design. During analysis, it allows abstracting from the technology that will support the IS, and to complement business process modelling with the specification of communicational needs. During design, Message Structures serves two purposes: (i) it allows to systematically derive a model of the IS memory (e.g. a UML class diagram), (ii) and it allows to reason the user interface design using abstract patterns. The technique is part of Communication Analysis, a communication-oriented requirements engineering method, but it can also be used in combination with other modelling techniques (e.g. Business Process Modeling Notation, Use Cases). Two supporting tools are presented: one uses the Xtext technology, and the other uses the Eclipse Modelling Framework.
16 - An Essential Textual Use Case Meta-model Based on an Analysis of Existing Proposals. Fábio Levy Siqueira, Paulo Sérgio Muniz Silva. pp. 419-430, DOI . [pdf] [scholar]
Abstract: Several studies have proposed meta-models for textual representations of use cases. Each of these meta-models has different goals and viewpoints, with either varying concepts and relationships or different semantics for the same concept. In Model-Driven Engineering approaches where there is no compatible proposal or a more appropriate viewpoint, or where there is no intention to limit the approach to a specific use case format, it might be difficult to choose between these proposals. Aiming at a generic textual representation, this paper presents a meta-model based on an analysis of 20 studies, chosen through a survey, that propose templates or meta-models. The more common elements of these studies are represented in a meta-model, together with their more frequent attributes. The goal is to create an essential and easily extendable meta-model that can be used directly in Model-Driven Engineering activities.
17 - On the construction of specifications from requirements. Zhi Li, Jon G. Hall, Lucia Rapanotti. pp. 431-442, DOI . [pdf] [scholar]
Abstract: Transforming real-world requirements into specifications which are appropriate for subsequent software development is at the heart of Requirements Engineering. Doing it systematically remains an open challenge. In this paper we present a formal approach to systematise the move from requirements to specifications in the context of Jackson's Problem Frames.
voltar