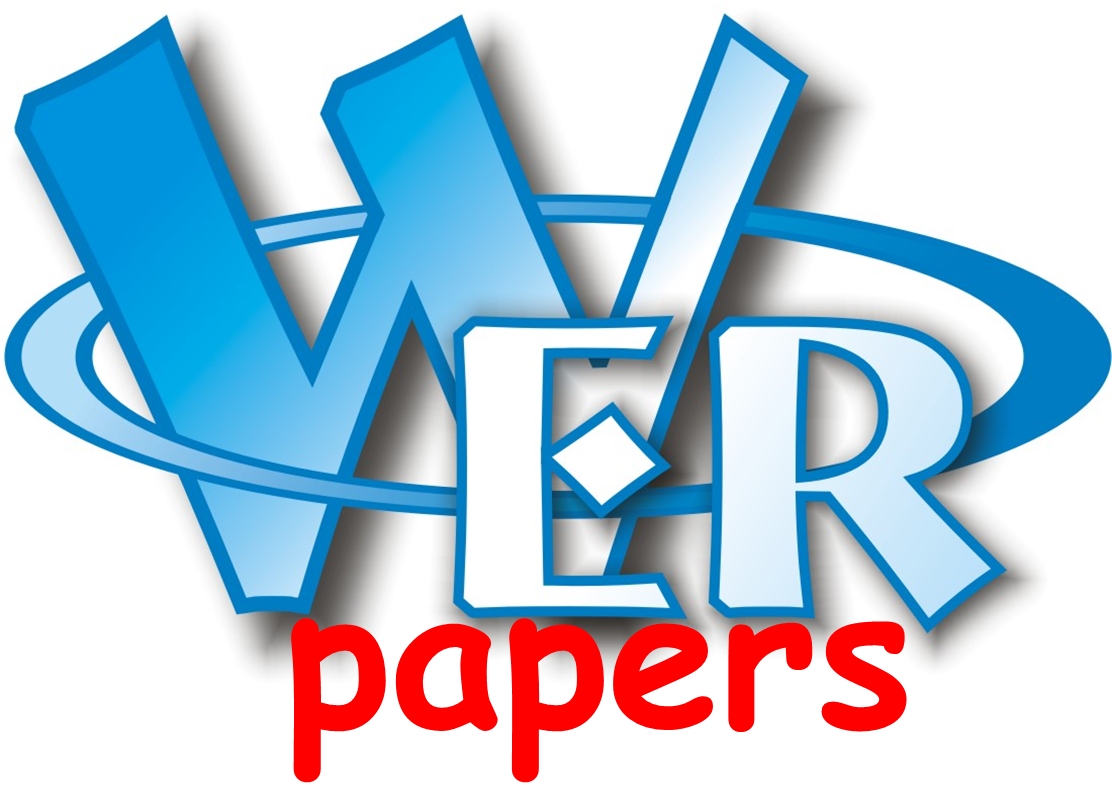 Workshop em Engenharia de RequisitosWorkshop en Ingeniería de RequerimientosWorkshop on Requirements Engineering
Anais do WER V. 2, 1999. Buenos Aires - Argentina
---
@proceedings{WERpapers: WER99,
  editores = {Alejandro Oliveros (UNLaM, Argentina), Francisco A. C. Pinheiro (UnB, Brasil)},
  title = {Anais do WER99 - Workshop em Engenharia de Requisitos, Buenos Aires, Argentina, Setembro 9-10, 1999},
  publisher = {},
  ISBN = {},
  ISSN = {2675-0066},
  year = {1999}
}

Abordagem Multi-disciplinar e Educação
1 - Introduzindo Engenharia de Requisitos no Currículo de Engenharia Elétrica/Eletrônica1: O Caso UFPE. Fernanda M. R. de Alencar, Jaelson F. B. Castro. pp. 229-232, DOI . [pdf] [scholar]
Abstract: Neste artigo descrevemos alguns dos problemas típicos de um egresso no curso superior em Engenharia Elétrica habilitação em Eletrônica e observamos como estão relacionados com a deficiência de formação na área de requisitos. Examinamos então as recentes diretrizes Curriculares para Cursos de Engenharia propostas pelo MEC, verificamos e propomos que a matéria Engenharia de Requisitos seja incluída na grade curricular dos cursos da área, para sanar estas deficiências. Ao final, apresentamos um relato de nossa experiência com a introdução do ensino de Engenharia de Requisitos no curso de Engenharia Elétrica/Eletrônica da Universidade Federal de Pernambuco.
Análise de Requisitos
2 - Enfoque middle-out en la Construcción e Integración de Escenarios. Graciela D. S. Hadad, Jorge H. Doorn, Gladys N. Kaplan, Julio Cesar Sampaio do Prado Leite. pp. 79-94, DOI . [pdf] [scholar]
Abstract: En la literatura referida a escenarios existen varios autores que proponen un proceso de construcción de escenarios basado en un enfoque topdown1, es decir partiendo de uno o más Escenarios Generales y construyendo los siguientes escenarios en una forma de refinamiento por pasos. Por otro lado, existen otros autores que consideran que los escenarios deberían construirse desde lo particular. Nuestra experiencia con escenarios señala que un enfoque middle-out es más conveniente. En este artículo detallamos dicha estrategia y describimos cómo esta estrategia es importante para integrar escenarios y subescenarios. Nuestras conclusiones están basadas en varios casos de estudio.
Modelagem e Representação de Requisitos
3 - LogicOO – uma metodologia para modelagem e construção de sistemas multimídia distribuídos. Giancarlo Guizzardi, José Gonçalves Pereira Filho. pp. 129-144, DOI . [pdf] [scholar]
Abstract: Este trabalho descreve a implementação de um sistema de vídeo sob demanda seguindo o framework para desenvolvimento de sistemas orientados a objetos "LogicOO". Este framework utiliza o conceito de ontologias no seu nível mais alto de abstração, o que permite o reuso do conhecimento sobre o domínio analisado. O protótipo construído, denominado Hipervisão, disponibiliza aos seus usuários o acesso a vídeos digitalizados e atualmente está em testes de uso no Departamento de Informática da UFES.
Negociação e Elicitação de Requisitos
4 - A Knowledge Acquisition Systematic within the Domain Analysis Context. Mônica Zopelari Roseti, Cláudia Maria Lima Werner. pp. 56-65, DOI . [pdf] [scholar]
Abstract: This work presents a systematic approach to knowledge acquisition within the domain analysis context, which grants a well defined process for eliciting and representing domain information that is sensitive to the kind of knowledge to be explored. Within the domain analysis context, knowledge acquisition encompasses aspects that are similar to the ones found in Requirements Engineering, although it is necessary to identify, elicit, and register requirements that belong to a family of systems instead of a unique system. Besides domain requirements, every kind of information that is related to the given domain must be identified, elicited and registered, supporting its comprehension and future generation of applications.
5 - Activity Theory: a Framework to Software Requirements Elicitation. Luiz Eduardo Galvão Martins, Beatriz Mascia Daltrini. pp. 30-44, DOI . [pdf] [scholar]
Abstract: In this article we defend the idea that social aspects have strong influence in the software requirements elicitation (Goguen 1993), which drive us to find help in the social sciences. The Activity Theory is a theory developed in the Psychology that focuses the human practices of development process, both the individual and social levels. This theory states that any human action must be understood within a minimal social context, established by an activity. So, we have proposed an approach of software requirements elicitation that have as framework several precepts from the Activity Theory. The case study is developed to show the possibility of using some principles of the Activity Theory in the software requirements elicitation.
6 - A Requirements Elicitation Approach Based in Templates and Patterns. A. Durán Toro, B. Bernárdez Jiménez, A. Ruiz Cortés, and M. Toro Bonilla. pp. 17-29, DOI . [pdf] [scholar]
Abstract: One of the main problems of requirements elicitation is expressing customer requirements in a form that can be understood not only by requirements engineers but also by noncomputer professional customers and users. The usual choice for expressing elicited requirements is natural language, since it is frequently the only common language to all participants. Problems of natural language are well–known, but using more formal notations too early is a risky choice that can make requirements impossible to understand for customers and users. Moreover, requirements engineers do not usually have good writing skills, and sometimes semantically correct requirements, expressed in natural language, are not understood because of the way they are written. In this paper, we present requirements templates that can improve requirements elicitation and expression, and two kinds of patterns: linguistic patterns, which are very used sentences in natural language requirements descriptions that can be parameterized and integrated into templates, and requirements patterns, which are generic requirements templates that are found very often during the requirements elicitation process and that can be reused with some adaptation.
7 - Elicit@99 um Protótipo de Ferramenta para a Elicitação de Requisitos. Néstor Adolfo Mamani Macedo, Julio Cesar Sampaio do Prado Leite. pp. 45-55, DOI . [pdf] [scholar]
Abstract: No presente trabalho apresenta-se o editor de requisitos Elicit@99, um protótipo de ferramenta para a elicitação de requisitos. Este protótipo está baseado no modelo Serbac-m, o qual é parte do "Requirements Baseline". Elicit@99 implementa duas estratégias para a elicitação de requisitos: o uso do acesso estruturado ou enlace hipertextual, que víncula o editor de requisitos ao modelo de negócio, para a captura tanto dos Requisitos Funcionais (RFs) como dos Requisitos Não Funcionais (RNFs), e do repositorio de requisitos para a captura exclusiva dos RNFs de Qualidade.
Processo e Gerência de Requisitos
8 - An Object Oriented Library for Tracing Requirements. Francisco A. C. Pinheiro, . pp. 187-197, DOI . [pdf] [scholar]
Abstract: We present the overall design of an object-oriented library for use when developing tracing capable applications. The library is implemented as java classes and consists of definitions of the basic classes for registration of objects and relations as well as methods for diferent types of tracing procedures and components for manipulating tracing results and viewing them graphically.
9 - O Impacto dos COTS no Processo de Engenharia de Requisitos. Fabrízia M. de Sousa, Fernanda M. R. de Alencar, Jaelson F. B. Castro. pp. 175-186, DOI . [pdf] [scholar]
Abstract: Surge uma nova forma de desenvolvimento de software baseada no uso de software prontos, já existentes no mercado, chamados componentes COTS (Commercial Off-The-Shelf). O sucesso dessa nova metodologia de desenvolvimento tem sido demonstrado pelo uso crescente em importantes organizações, incluindo governo, indústria e comércio. Redução de custos e de prazos são os principais benefícios prometidos por esta nova tecnologia de desenvolvimento de software. Por outro lado, existem riscos associados ao novo processo. Nesse trabalho é apresentado o processo de desenvolvimento de software baseado em COTS e suas implicações na engenharia de requisitos. É feita uma análise das fases tradicionais do processo de engenharia de requisitos para adaptar as novas características de desenvolvimento introduzidas pelos componentes COTS.
voltar