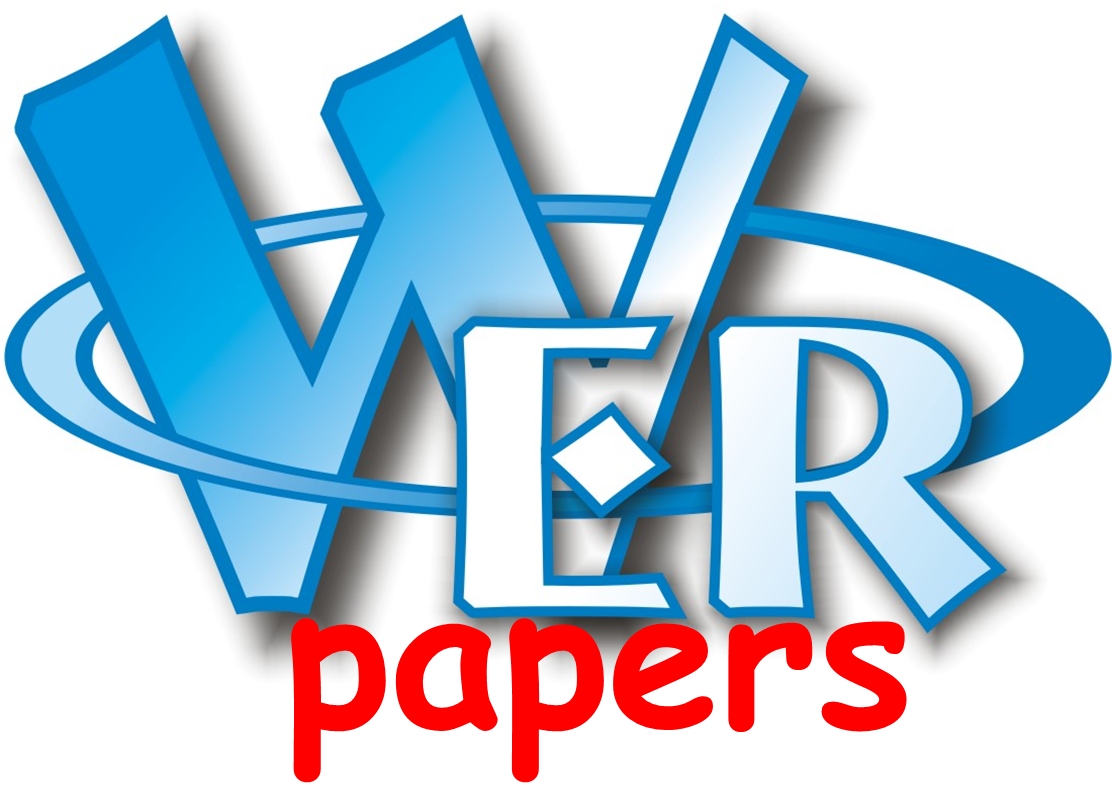 Workshop em Engenharia de RequisitosWorkshop en Ingeniería de RequerimientosWorkshop on Requirements Engineering
Anais do WER V. 20, 2017. Buenos Aires - Argentina
---
@proceedings{WERpapers: WER17,
  editores = {Isabel Sofia Brito (IPBeja - Portugal),  Jose Luis de la Vara (UC3M - Espanha)},
  title = {Anais do WER17 - Workshop em Engenharia de Requisitos, Buenos Aires, Argentina, Maio 22-23, 2017},
  publisher = {},
  ISBN = {978-987-3806-98-8},
  ISSN = {2675-0066},
  year = {2017}
}

RE for Specific System Types
1 - Requirements Engineering for Robotic System: A Systematic Mapping Study. Danyllo Albuquerque, Jaelson Castro, Sarah Ribeiro, Tiago Heineck. pp. , DOI . [pdf] [scholar]
Abstract: Problem Statement: Several research efforts have been targeted to support Requirements Engineering (RE) in general software systems for the last two decades. However, to the extent of our knowledge, there is no framework to support RE in robotic systems domain. Goal: We aimed to systematically identify and analyze the existing research progress and directions that influence the elicitation, analysis and negotiation, specification, validation and management of requirements in robotic systems domain. Method: We used Systematic Mapping Study (SMS) method for identifying and analyzing 38 peer-reviewed studies. Our review has (i) taxonomically classified and (ii) systematically mapped the methods, modelling styles and process which support some RE phases. Results and Conclusions: According to the selected studies, we realize that all RE phases are addressed by one or more methods, modelling styles and process. In general, the elicitation and specification phases received greater attention from the academic community whereas validation, analysis/negotiation and management phases still require more attention. Furthermore, we note that only two studies mention all phases of the ER process but such studies do not describe in detail how RE phases should be performed.
2 - Rastreamento e Gerenciamento de Requisitos em Busca da Conformidade Legal. Ilueny Santos, Erica Miranda, Marcia Lucena. pp. , DOI . [pdf] [scholar]
Abstract: A crescente complexidade dos sistemas de software e a exigência de conformidade com a legislação vigente são condições sine qua non à era digital. Atender estas condições e gerenciar requisitos legais tornamse atividades custosas, quando feitas de forma não planejada. Requisitos legais referem-se ao conjunto de leis e regulamentos aplicáveis ao domínio do negócio do software, que se pretende desenvolver e por isso são altamente sensíveis às alterações que ocorrem na legislação. Neste trabalho, é apresentada uma proposta de gestão baseada na rastreabilidade de requisitos. Com isto, é possível realizar o acompanhamento e a descrição da vida de um requisito, visando o processo de manutenção e verificação da conformidade legal dos sistemas. Para melhor compreensão do problema foram realizadas pesquisas bibliográficas e entrevistas com especialistas em requisitos. Uma aplicação da abordagem no contexto de comércio eletrônico é apresentada.
3 - A Survey on Preferences of Quality Attributes in the Decision-making for Self-Adaptive Systems: the Bad, the Good and the Ugly. Luis H. Garcia Paucar, Nelly Bencomo. pp. , DOI . [pdf] [scholar]
Abstract: Diferent techniques have been used to specify preferences for quality attributes and decision-making strategies of self-adaptive systems (SAS). These preferences are defined during requirement specification and design time. Further, it is well known that correctly identifying the preferences associated with the quality attributes is a major dificulty. This is exacerbated in the case of SAS, as the preferences defined at design time may not apply to contexts found at runtime. This paper aims at making an exploration of the research landscape that have addressed decision-making and quality attribute preferences speciication for selfadaptation, in order to identify new techniques that can improve the current state-of-the-art of decision-making to support self-adaptation. In this paper we (1) review difierent techniques that support decisionmaking for self-adaptation and identify limitations with respect to the identication of preferences and weights (i.e. the research gap), (2) identify existing solutions that deal with current limitations
RE Practice
4 - A qualificação profissional do Engenheiro de Requisitos no Brasil. Vinícius Dias Paldês, Janaína dos Reis Lopes, André Luiz Coelho da Silva, Roberto Avila Paldês, Angélica Toffano Seidel Calazans. pp. , DOI . [pdf] [scholar]
Abstract: Diante das demandas de um dos maiores mercados mundiais em TI, são necessários profissionais qualificados em engenharia de requisitos. O objetivo da pesquisa é investigar a qualificação atual dos profissionais de requisitos que atuam no Brasil. A amostra de 4000 currículos foi obtida em uma importante rede social de perfis profissionais, valendo-se de uma ferramenta desenvolvida para a extração dos dados. Nas cidades com mais currículos cadastrados, verificou-se apenas 45% dos profissionais são graduados em TI, o que concede uma formação generalista em requisitos. Menos de 5% recorreram à pós-graduação para cobrir essa lacuna, sendo que cerca de 1% realizou uma pós-graduação específica em Engenharia de Requisitos (ER). Somente 2% obteve uma certificação profissional específica. Como conclusão, constata-se os profissionais de requisitos atuam com reduzida formação acadêmica em ER, compensando em parte com competências em gestão. Cursos específicos são recentes em profissionais atuan-tes, embora isso possa melhorar a empregabilidade.
5 - O perfil do analista de requisitos de software: uma comparação entre a academia e o mercado de trabalho brasileiro. Angélica Toffano Seidel Calazans, Roberto Avila Paldês, Emeli Braosi1, Kiane Mabel Rezende, Nathácia Indayara Pereira. pp. , DOI . [pdf] [scholar]
Abstract: O trabalho do analista de requisitos é considerado crucial no ciclo de vida de um software. Neste artigo apresenta-se um estudo exploratório sobre o perfil desse analista, considerando o modelo de competência caracterizado por conhecimentos, habilidades e atitudes. Foi utilizada a análise de conteúdo e a ferramenta NVivo para categorizar 164 anúncios de vagas para analistas de requisitos entre os anos de 2015 e 2016. Grande parte dos resultados obtidos ratificam o perfil do analista de requisitos citados em trabalhos acadêmicos. Identificaram-se, entretanto, uma série de habilidades necessárias ao analista de requisitos que não são especificados na literatura, tais como: UML, programação e linguagens, bancos de dados e métodos ágeis. Identificou-se também a não exigência de domínio em uma segunda língua pela maioria das organizações que divulgaram ofertas de emprego no Brasil. Os resultados desta investigação ajudam na compreensão das reais necessidades do mercado brasileiro, apontando contradições com o perfil do analista descrito pela academia.
6 - Retrospective and Trends in Requirements Engineering for Embedded Systems: A Systematic Literature Review. Tarcísio Pereira, Deivson Albuquerque, Aêda Sousa, Fernanda Alencar, and Jaelson Castro. pp. , DOI . [pdf] [scholar]
Abstract: In the embedded systems (ES) area, more than 50% of problems occur at system delivery and are related to misconceptions in capturing requirements. Also, requirements engineering (RE) is crucial to meet time, cost, and quality goals. An important step to improve the RE approaches for ES is to gain a detailed understanding of the retrospective and trends presented by the literature. We have conducted a systematic literature review to gain an in-depth understanding of trends and needs concerning RE research. We report on the main results of our study related to three research questions: what requirements should be considered during ES development? what are the RE contributions for ES? and what challenges/problems are identified in the research literature to RE for ES? Based on the results of the study, we draw conclusions for future RE research.
7 - Requirements Engineering Practice and Problems in Agile Projects: Results from an International Survey. Stefan Wagner, Daniel Méndez Fernández, Michael Felderer, Marcos Kalinowski. pp. , DOI . [pdf] [scholar]
Abstract: Requirements engineering (RE) is considerably different in agile development than in more traditional development processes. Yet, there is little empirical knowledge on the state of the practice and contemporary problems in agile RE. As part of a bigger survey initiative (Naming the Pain in Requirements Engineering), we build an empirical basis on such aspects of agile RE. Based on the responses of representatives from 92 different organisations, we found that agile RE concentrates on free-text documentation of requirements elicited with a variety of techniques. Often, traces between requirements and code are explicitly managed and also software testing and RE are aligned. Furthermore, continuous improvement of RE is performed due to intrinsic motivation. Important experienced problems include unclear requirements and communication flaws. Overall, we found that most organisations conduct RE in a way we would expect and that agile RE is in several aspects not so different from RE in other development processes
Requirements Knowledge
8 - Limiting the Scope of the Domain Language to Describe the Application Language. Leandro Antonelli, Gustavo Rossi, Julio Cesar Sampaio do Prado Leite, and Alejandro Oliveros. pp. , DOI . [pdf] [scholar]
Abstract: Agile methodologies arise as a way to cope with problems of estima-tion and planning that occur in traditional software development. Nevertheless, the transition to agile could be hard. The key challenge reported by literature re-fers to requirements, in particular with the identification and description of User Stories. It is stated that User Stories are often described vaguely by the wrong people at the wrong time. To cope with this problem, there is an already pro-posed strategy which consists in deriving User Stories from the domain lan-guage captured through the Language Extended Lexicon (LEL). This strategy produces an initial set of User Stories with small effort. Since the LEL aims to capture the language of the domain while the User Stories must be limited to a specific application we believe that it is necessary to adjust the LEL. In this pa-per, we propose a strategy to limit an LEL that describes the language of a do-main to describe the vocabulary of a specific application. Consequently, User Stories derived from the limited LEL using the already proposed approach will only describe the functionality of the application. Based on a preliminary evalu-ation, we state that teams with no experience in writing User Stories obtain bet-ter products. Although the results are preliminaries, we think that they are promising.
9 - Jerarquías Naturales en el Contexto del Proceso de Requisitos. Gladys N. Kaplan, Jorge H. Doorn. pp. , DOI . [pdf] [scholar]
Abstract: Los glosarios utilizados en los procesos de requisitos, cumplen fundamentalmente la función de reducir la ambigüedad de los modelos construidos en el proceso. Por lo tanto es mandatorio que se haga evidente todo tipo de complejidad presente en el léxico que describen. Estos glosarios contienen un conjunto de palabras y frases que son relevantes en el dominio particular que se está modelando. Este conjunto de palabras y frases contiene a su vez subconjuntos de términos con una vinculación semántica más estrecha aún, este es el caso de las jerarquías. En el presente artículo se propone una estrategia para analizar y resaltar las jerarquías naturales en el léxico del dominio. La indicación explícita de las jerarquías en estos glosarios mejora sustancialmente su contenido semántico, garantizando sus principales pilares que son optimizar la comunicación, mejorar la comprensión de los procesos del negocio y reducir la ambigüedad de los modelos construidos. Por otra parte, la presencia de jerarquías promueve una Especificación de Requisitos con mejor tratamiento de la granularidad de su contenido.
10 - Usando KIPO para Modelar Problemas e Socialização na Elicitação de Requisitos. Denize Pimenta, Fernanda Baião, Gleison Santos. pp. , DOI . [pdf] [scholar]
Abstract: A elicitação de requisitos essencialmente constitui uma atividade que envolve uma série de interações de comunicação entre os diversos stakeholders envolvidos no processo de desenvolvimento. Apesar disso, muitos engenheiros de requisitos não possuem ampla percepção sobre os problemas que acontecem durante a socialização, e não há entendimento preciso sobre como as técnicas específicas da engenharia de requisitos podem auxiliá-lo nessas atividades. A elicitação é um processo intensivo em conhecimento, pois a sua execução depende essencialmente do conhecimento dos envolvidos. Este artigo apresenta uma proposta para representar uma conceitualização mais precisa e explícita sobre alguns problemas e a dinâmica da socialização que ocorrem durante a elicitação de requisitos. A conceitualização é apresentada na forma de um modelo conceitual de domínio, que instancia o meta-modelo de processos intensivos em conhecimento representado pela KIPO (knowledge-intensive process ontology). Seu objetivo é compartilhar uma visão comum e tornar o domínio da engenharia de requisitos mais explícito e semanticamente preciso a seus stakeholders
11 - Towards an Ontology of Goal-Oriented Requirements. Pedro Pignaton Negri, Vítor E. Silva Souza, André Luiz de Castro Leal, Ricardo de Almeida Falbo, and Giancarlo Guizzardi. pp. , DOI . [pdf] [scholar]
Abstract: Goal-Oriented Requirements Engineering (GORE) has grown into an important area of research in the past decades. Still, some of its corners remain dark, since dierent GORE languages do not provide a well-founded conceptualization of the domain and are not consensual. This may lead to ambiguous or weak understanding of GORE concepts. In this paper, we introduce the Goal-Oriented Requirements Ontology (GORO), a domain ontology founded on the Unied Foundational Ontol- ogy (UFO) that intends to represent the nature and relations of concepts surrounding the GORE domain.We use GORO to explore and clarify the semantics used, sometimes implicitly, by well-known GORE languages.
Textual Requirements
12 - Inspección centrada en Omisiones y Ambigüedades de un Modelo Léxico. Alberto Sebastián, Graciela D. S. Hadad, Ezequiel Robledo. pp. , DOI . [pdf] [scholar]
Abstract: El uso de modelos escritos en lenguaje natural en la producción de requisitos está ampliamente difundido tanto en la literatura como en el ámbito profesional. Si bien estos modelos favorecen la comunicación entre los involucrados y la validación, presentan ciertos obstáculos, como la ambigüedad del texto y la dificultad en realizar verificaciones automatizadas. La inspección es reconocida como una técnica de verificación de alta efectividad para detectar defectos en código fuente, modelos de diseño y modelos de requisitos. Se propone una variante de la técnica de inspección basada en la construcción de mapas conceptuales para verificar un modelo léxico. Estudios estadísticos han comprobado que este modelo léxico presenta un bajo nivel de completitud, y que puede arrastrarse a otros modelos pues suele construirse al inicio de un proceso de requisitos. Dado ello, la inspección propuesta se aboca a detectar principalmente omisiones y ambigüedades, habiéndose probado en siete casos con resultados promisorios.
13 - Un Enfoque Inteligente para Derivar Use Case Maps a partir de Requerimientos de Software. Brian Caimmi, Guillermo Rodriguez, Álvaro Soria. pp. , DOI . [pdf] [scholar]
Abstract: Los requerimientos de software descritos en lenguaje natural son la base para realizar la creativa pero exhaustiva tarea de diseñar una arquitectura de software. No obstante, suele existir una amplia brecha conceptual entre los requerimientos y la arquitectura de software que describe su funcionalidad; más aún, poco se ha explorado en este campo para reducir esta brecha. En este trabajo, proponemos un enfoque inteligente para derivar una descripción arquitectónica de un sistema, en particular utilizando la notación Use Case Maps (UCMs) a partir de requerimientos redactados en lenguaje natural con el objetivo de facilitar la transición entre la especificación de requerimientos y el diseño arquitectónico. El enfoque combina algoritmos de clasificación de texto, procesamiento de lenguaje natural y clusterización de texto para generar UCMs de la arquitectura de software prevista. La experimentación llevada a cabo con varios casos de estudio muestra resultados prometedores en cuanto al potencial del enfoque para asistir a los arquitectos de software durante las primeras etapas del proceso de desarrollo de software
14 - Uma Notação Textual Modular e Escalável para Modelos de Requisitos iStar. Fabio Penha, Marcia Lucena, Leonardo Lucena, Fernanda Alencar e Celso Agra. pp. , DOI . [pdf] [scholar]
Abstract: O framework iStar é uma notação gráfica utilizada para modelar dependências e raciocínios estratégicos em requisitos de sistemas computacionais. Um desafío recorrente desta notação está relacionado com a falta de modularidade e por consequência, escalabilidade. Uma das principais re exo destas fraquezas é a dificuldade em lidar com modelos mais complexos. Neste contexto, este artigo apresenta uma notação textual, modular e escalável, para modelos de requisitos iStar capaz de lidar com modelos complexos. A notação proposta também propõe uma orientação para leitura e entendimento dos modelos iStar por todos os envolvidos, facilitando a análise e verificação dos modelos.
voltar